Join the Points of Light Team
Points of Light has a rich history to draw from while looking toward the future as an innovative leader in the social sector. We value innovation, dedication, teamwork and respectfulness. Our team is solution-oriented, and we're looking for people who are ready to meet challenges with creativity and a can-do spirit. We enjoy thinking big and working hard to deliver impactful results because every time we do, our mission grows stronger.
Does this sound like you? Join us! 
Search Our Open Positions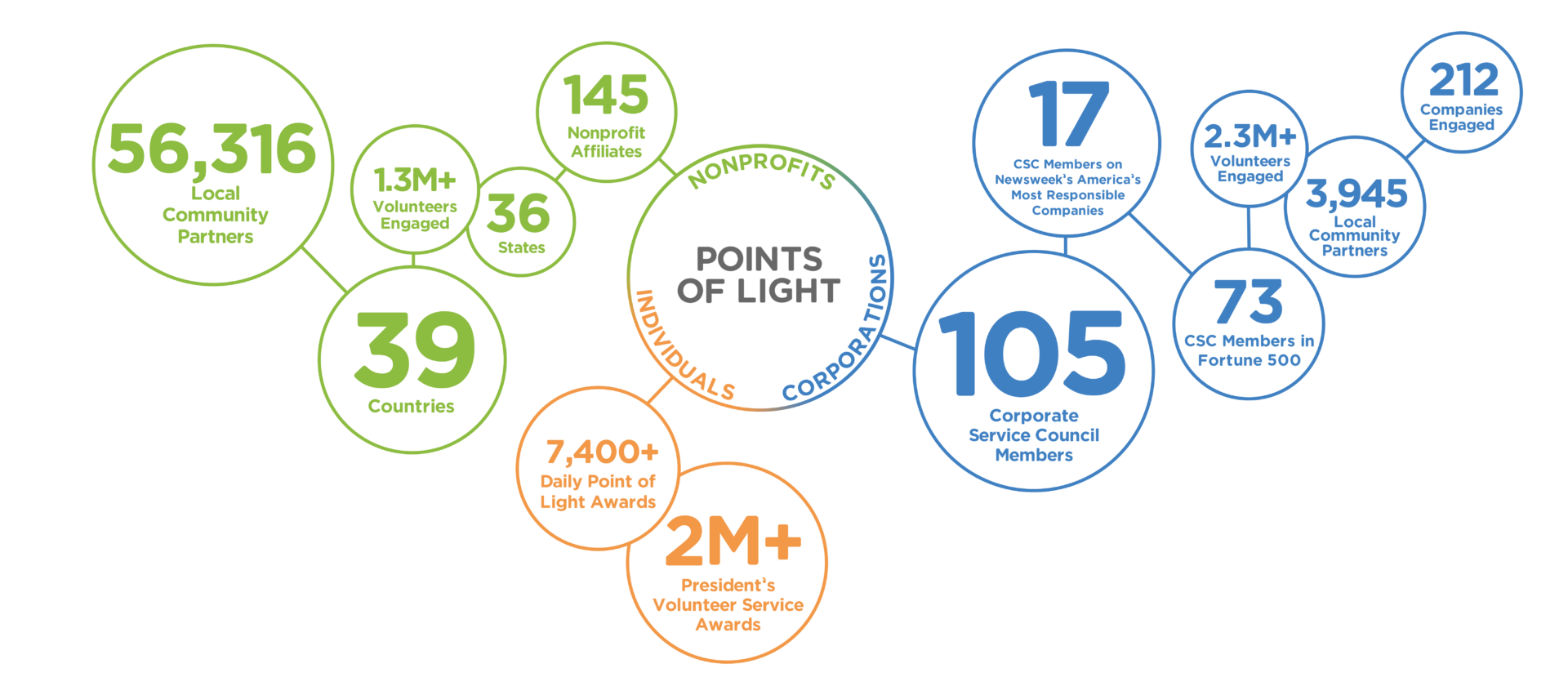 Our mission is the "what," The Points of Light Civic Circle® is the "how." The Civic Circle® helps people connect to opportunities and understand that doing good comes in many forms. It is a framework that represents your power to lead, lend support and take action for causes you care about, and it's at the heart of everything we do.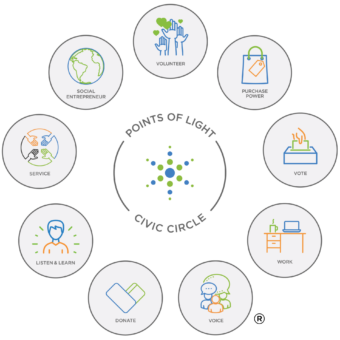 Many organizations say they are committed to Diversity, Equity and Inclusion, so how can you tell if the commitment is real? Points of Light lives these values every day, in ways people can easily see and in ways that matter, even when the public isn't watching. Here's how we embed DEI values into our daily work:
We prioritize an internal culture that is flexible and adaptable so that we can be responsive to the changing needs of our people. That's why we've built engaged staff committees that actively address organizational culture, health and wellness, and DEI work. We listen and respond to our staff. When the COVID-19 pandemic hit, we pivoted to remote work and never looked back. This change helped to foster a culture of respect and opened up a new world of possibility in incorporating people from across the nation into Points of Light who add value through both their professional and lived experiences.
Points of Light proudly offers comprehensive medical, vision, and dental insurance for employees, spouses/domestic partners and dependent children. Medical benefits include prescription drug coverage.
Full-time employees earn Paid Time Off (PTO) which provides for sick and vacation time, based on length of continuous employment with Points of Light.
0-3 Years

Worked | 18 days (accrues at 1.5 days per calendar month)

3+ Years

Worked | 

24 days (accrues at 2 days per calendar month)

 
Points of Light also observes 13.5 holidays and is closed for winter holiday (December 25 – January 1) 
Points of Light employees are eligible to contribute to a 403(b) as soon as administratively feasible upon hire and their contribution is matched 50% up to 7% of the employee's eligible compensation.
Full-time employees receive Points of Light-paid basic life and Accidental Death & Dismemberment insurance equals your annual salary up to $150,000. 
Points of Light provides short-term and long-term disability insurance.  
Supplemental life insurance for yourself, spouse/partner and dependent children;

 

 

Flexible Spending Accounts (FSA) for medical and dependent care expenses;

 

 

Short-term disability buy-up option

 

 

Worldwide travel assistance program;

 

Employee assistance program;

  

 

Will preparation services; and

 

One volunteer day off per mont

h 

 
Here's What We Like to Find Out About You
When we're hiring, we're looking for specific things that align with our company culture. These are important to us and we hope important to you to ensure this is a good fit. Below are the types of sample questions you might be asked in an interview.
Connecting people's power to do good – to use hearts, hands and minds to where it's needed most.
Every action, no matter how small, can change a life.
Together, we are a force that transforms our world.
Mission
To inspire, equip and mobilize people to take action that changes the world.
Vision
To inspire future generations to carry forward a commitment to be a powerful force for change, resulting in a kinder, stronger, more just and equitable world.
This link leads to the machine-readable files that are made available in response to the federal Transparency in Coverage Rule and includes negotiated service rates and out-of-network allowed amounts between health plans and healthcare providers. The machine-readable files are formatted to allow researchers, regulators, and application developers to more easily access and analyze data.