4 Tips to Maximize Your Social Impact This Global Volunteer Month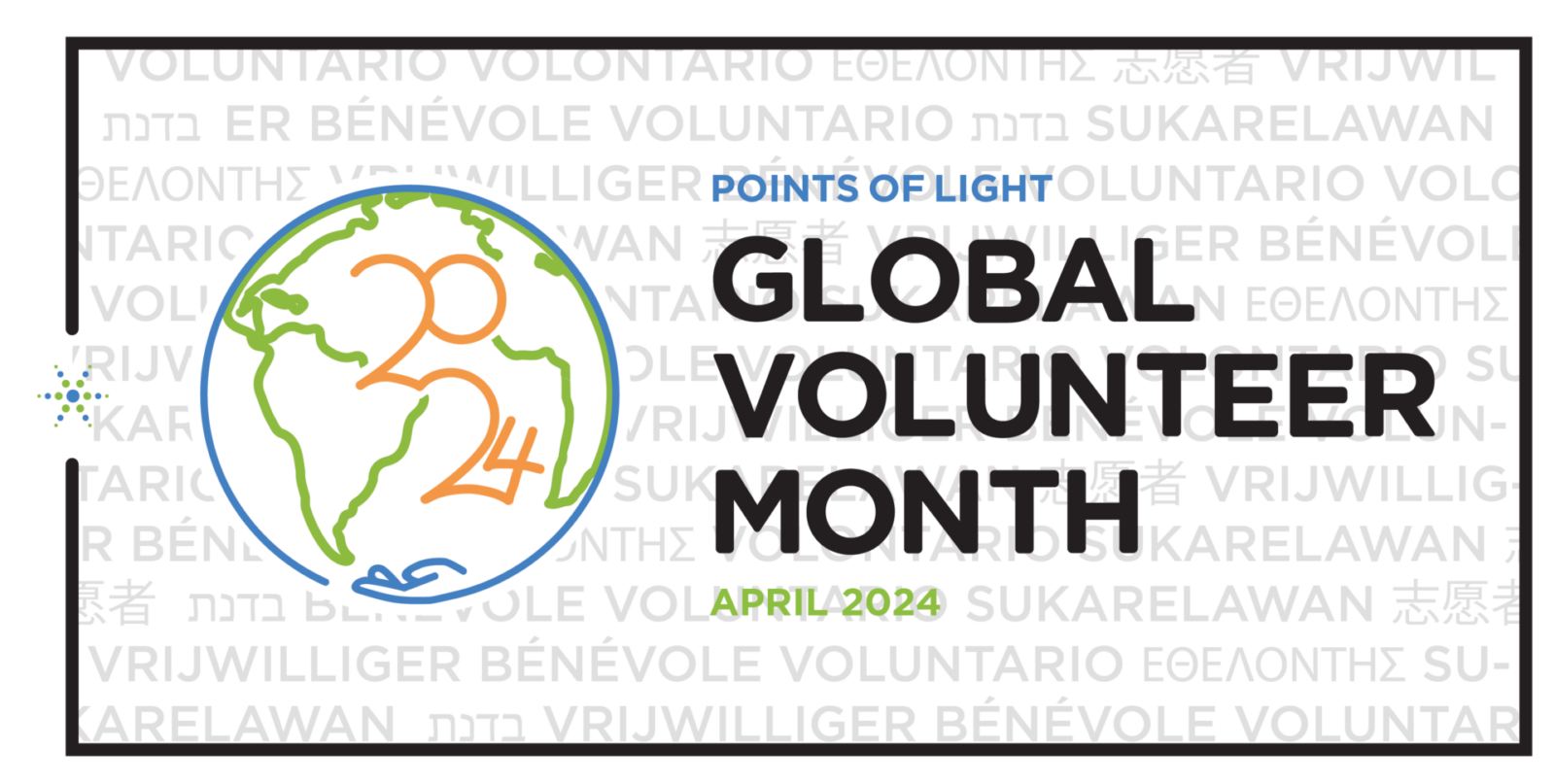 April is Global Volunteer Month and offers the perfect opportunity for you to get more civically engaged in your community and beyond through volunteering. This month, we're highlighting ways you can contribute your time and talent through volunteering, one of the nine elements of Points of Light's Civic Circle®, a framework for creating social impact that opens the door to doing good in your own community.
Why is Volunteering so Impactful?
Volunteering represents an individual's ability to choose to lend their time and talent to a cause area they are passionate about in order to advance that cause or help solve a societal issue without concern for personal gain – monetary or otherwise.
Although the spirit of volunteerism can be seen in an act as simple as helping a neighbor bring in their groceries, volunteering is an act that is often done in partnership with a nonprofit organization. Most nonprofits rely on their volunteer base to help keep their mission alive and do the greatest level of good for the communities they work with. Volunteers help these organizations save critical financial resources that can then be maximized in other ways for the benefit of the communities served.
There are plenty of ways you can volunteer, both with a nonprofit and outside of one. The majority of acts of volunteerism today are typically informal – mowing the lawn of a senior friend or organizing a donation drive for someone who lost their home in a natural disaster.
Points of Light's research shows that while 43% of Americans prefer to volunteer with a nonprofit organization, 28% prefer to volunteer with friends or neighbors, without an organization's involvement.
Create Your Action Plan
You might be passionate about a lot of different cause areas, so narrowing down the one or two areas to which you'd like to contribute your time and talent is the first step. HandsOn Greater Richmond has created a helpful Giving Back Guide to help guide this initial process of defining where you'd like to focus your energy in volunteering and other ways of supporting the causes you care about.
By determining your top values and issue areas, exploring the issues to get educated on what initiatives currently exist and considering your specific skill set, you can make a more strategic decision about how, when and where to volunteer.
Research Volunteer Opportunities
Next, you'll want to find volunteer opportunities in your community – or beyond – that align with the causes you defined in your action plan. Points of Light Engage is a great place to start. This global database features hundreds of thousands of volunteer opportunities throughout the world just waiting for the right volunteer to step up. You have the ability to search and filter opportunities based on location and even look for virtual opportunities if you'd like to volunteer from home.
You can also contact nonprofit organizations in your area to see what their needs are and how you can best contribute. Reaching out through a phone call or email can help you make connections with the organizations advocating for the social issues you care about and even if they don't currently need volunteers, they may be able to help point you in another direction so you can start contributing to the cause.
"Volunteering doesn't just mean dedicating your whole life. Just a note. Just a phone call. Just appreciating someone who's around you. You yourself can step into someone's shoes, feel their pain and help improve their lives. Volunteering can start with shaking someone's hand or patting someone on the back, all the way to going on mission trips or donating every month. Volunteering is a blessing. When you give, you receive. You receive an abundance of peace, happiness and improved outlook on life."

— Daily Point of Light Honoree NISHA MANDANI
Start Small and Work Your Way Up
You don't need to tackle every cause area or take on hours of volunteer work per week to start making a difference. Often, the best way to begin is by completing a one-time volunteer project.  Then, you can get a feel for the organization and for the type of work you're doing to see if it's a good fit.
If you have the capacity, committing to a regular volunteer schedule once a week or once a month is a smart next step. Don't try to take on too much too quickly – this can result in compassion fatigue and burnout. While volunteering is always needed in our communities, the most effective and impactful volunteerism is achieved by those who maintain a healthy sense of balance and continue to prioritize self care throughout their work.
"There's nothing magic about it. If you have that volunteer itch, scratch it! It doesn't matter what cause it is. Volunteering is so rewarding. It's something special — it's so authentic and it comes from a great place, which is an individual's heart. You should never think any volunteer opportunity is too small. It can grow into something huge."
— Daily Point of Light Honoree ALEX BROWN
Check Out Global Volunteer Month Resources
The tips above cover some ways you can get started with volunteering now and at any time of year. For more ideas on planning an initiative or event for Global Volunteer Month, check out Points of Light's Global Volunteer Month toolkits. These resources are full of inspiration on creating and leading successful social impact initiatives throughout April, including communication techniques, ideas for recognition and even logos you can use on social media.
There are four different toolkits tailored to various audiences – nonprofits, companies, government officials and individuals. Download the toolkit that's applicable for you to get fresh ideas on how to celebrate volunteerism this month.
---
Want to explore more? Check out these additional resources:
Share this post