Retired Nurse Volunteers to Keep Central Park a Sanctuary for All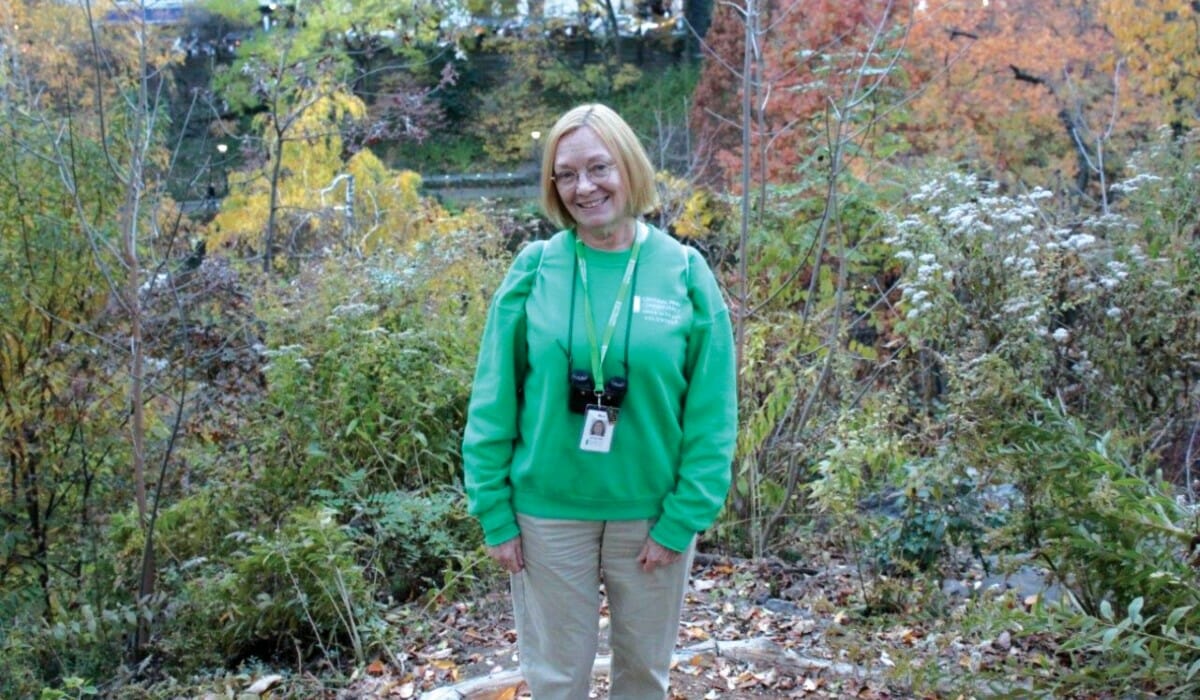 Meet Daily Point of Light Award honoree Mary Geiger. April is Global Volunteer Month, a global movement to recognize volunteers and people who actively support their communities, whether through volunteerism or other elements around the Points of Light Civic Circle®, like Mary. Read her story, and join the Global Volunteer Month celebration. 
Mary Geiger, 78, always knew she wanted to live in New York City. Originally from northeastern Pennsylvania, she made her way to the Big Apple after becoming a nurse at Memorial Sloan Kettering Cancer Center. She spent her career caring for patients and, in her last role before retirement, as a research coordinator at Mount Sinai Hospital.  
When she decided to step back from the hospital, she stepped into another passion as a volunteer with the Central Park Conservancy. The Conservancy was founded in 1980 and maintains Central Park under contract with the City of New York and NYC Parks. They aim to "preserve and cultivate" the Park and to "enhance the enjoyment and wellbeing of all."  
When the pandemic hit, the world went inside, and everything changed. Mary could read and watch foreign movies. But travel had also been a big part of her life, and she's had to cancel a trip to Croatia three times because of COVID-related disruptions. Despite everything, since May 2011, she has dedicated over 2,850 hours to the Central Park Conservancy as a greeter and member of the horticulture volunteer team.  
Mary is currently recovering from a surgery, so she's been unable to go to the Park for a few weeks but looks forward to the coming months when she can return to the role she has loved for over a decade. And to when she can finally take that trip to Croatia.  
What inspires you to volunteer? 
As I was approaching retirement, I knew I'd seek volunteer work. I was a Girl Scout and a Junior Catholic Daughter in my teen years. Community service was just what you did. I used to see the Conservancy volunteers gardening and guiding people in the Park, and it inspired me to join.
Describe your volunteer role with the Central Park Conservancy. 
I began as a greeter, and it was a good way to get a thorough understanding of the Park. There was extensive training. I was assigned to a three-sided map near the Belvedere Castle for just three hours a week. We had classes and written assignments, and we had to explore all areas of the Park.  
As a greeter, I try to provide a positive experience for visitors. I try to determine their interests — nature and wildlife, sculpture, history of the Park — and gauge their mobility level. The designers, Vaux and Olmsted, really wanted visitors to discover the beauty of nature, not marked by signs, so I also highlight their route on a map. It's so rewarding and unexpected when they return to tell me what they saw and how pleased they are.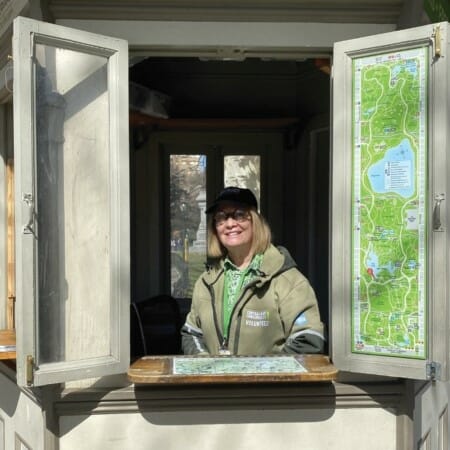 I do horticultural activities — weeding, pruning, raking, mulching and planting — as well, which really enhances the health and the beauty of the Park. I've worked with corporate groups who donate to come and do the same tasks, often returning later as volunteers. I supervise and assist. It's a very positive experience for the teen groups, school groups and family groups I've worked with, too. You really want to instill a sense of stewardship of the Park, because it's 843 acres. It's a vast backyard for all of us.  
And I often try to sign up for special community events, because they're wonderful. The day before the Pumpkin Flotilla, kids carve pumpkins and bring them back to put on a float on the Harlem Meer. There are usually about 100 all tied together with LED lights inside. At dusk, a Conservancy staff member with a kayak takes them out on the water. It's a beautiful sight.  
What's your favorite time to visit the Park? 
The Park is beautiful in the spring, because of the cherry blossoms and the magnolias. But I think any season is wonderful. It's so diverse. There are woodlands up in the northern end where you feel you've left the city and gone to the Adirondack Mountains. There is the Hallett Nature Sanctuary with wood chip paths, the Conservatory Garden, and Shakespeare Garden. I enter the Park take a deep breath and feel whatever stress I had just disappear.  
What's been the most rewarding part of your work? 
It's a small thing, but it has stuck with me forever. It was at a special youth event at the Harlem Meer. Kids can come and learn more about nature. A company had lent us microscopes, and they set them up with slides of the water.  
I'd spent time showing several children how to use them, and there was one little girl, about six, with her grandmother who spoke no English. She was translating for her and was there for about two hours. I have never seen someone so transfixed. When she left, a gentleman from the company said, "I really wish I could have given her a microscope to take home." I just felt that it ignited a spark in her. It was an opportunity she might never have had.  
What have you learned through your experiences as a volunteer? 
I've learned how wonderful the Park and the Conservancy are. Also, there's a monthly program for volunteers to learn more about the Park. It could be history presentations by the Park historian, the horticultural staff telling us more about the flora and fauna, or the operations staff giving us updates and information on the maintenance of the Park grounds.  
It's also taught me that this community service is really for a higher purpose than ourselves. A diverse group of volunteers can come together for three hours on a project, complete the task and leave feeling satisfied and inspired to return. 
Are there any future partnerships, programs, or events that you are excited about? 
As a greeter, you're by yourself; there's less of that team feeling. So, the Conservancy has decided to institute greeter walks. A small group meets at a particular spot. Then, they pick a route, go to the highlights and discuss the best way to get to each. I haven't been able to join that yet, because we haven't returned to in-person meetings.  
Why is it important for others to get involved in causes they care about? 
If people didn't get involved, many of those causes would not really be able to continue. We have several thousand volunteers in the Park, and without them, staff simply could not do all of the maintenance work.  
What do you want people to learn from your story? 
I'd like to think that, especially during the pandemic, people have realized that the only way to get through things is by doing some service for others. It's satisfying, but it also means a lot to those people and to whatever organization you choose to join. I miss it. It's been about three weeks, and it's going to be a bit longer. The Central Park Conservancy gave my life a purpose after retirement that I'm very grateful for. 
Join the Global Volunteer Month celebration! Download our Global Volunteer Month toolkits and access resources to encourage volunteerism and civic action, recognize volunteers, and raise awareness for your organization's needs and funding opportunities. 
Share this post